THE NUMBER ONES
PLAY 1024
PAGE LAST UPDATED: 11 AUGUST 2012
| | | | |
| --- | --- | --- | --- |
| RELEASE DATE | SIDE 1 | SIDE 2 | PARTS |
| 13 May 1983 | PLAY 1024 A OR | PLAY 1024 B OR | AU |
| | | | |
| | | |
| --- | --- | --- |
| CODE | CIRCULATED | SLEEVE DETAILS |
| A1 | May 1983 | |
| | | |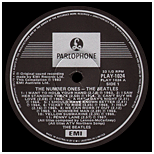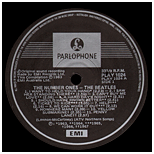 BLACK 1-BOX B
AU1024S1B
Jul 1987
BLACK 1-BOX A
AU1024S1A
13 May 1983
To reflect Australia's differing musical tastes, EMI Australia issued in May 1983 its own version of 20 Greatest Hits, an album released with localised variations in both the UK and US the previous October. As The Beatles had 23 number ones in Australia, the title was aptly changed to The Number Ones. Not all tracks would fit onto a standard LP, so three tracks were provided as a "bonus" EP (it was actually a single)…although how three of the core tracks could be considered a "bonus" is a mystery. The LP is unique even if for no other reason than being the only LP worldwide to contain the 1963 stereo mix of I Want To Hold Your Hand. Unfortunately though, the first second of the track suffers from an audible "wow", the result of a hasty 1982 tape dubbing exercise.

The release of this LP created a unique situation in Australia, because for the first time a buyer could obtain the 1963, 1965 and 1966 stereo mixes of I Want To Hold Your Hand concurrently depending on the LP purchased!

Mastered at Studios 301 utilising the Maxicut Process.

The above is an extract from the book "An Overview of Australian Beatles Records", © 2011 by Jaesen Jones. Used by permission. Book available for purchase by clicking the "AUSSIE BEATLES BOOK" link in the top menu.
GENERAL ALBUM INFORMATION
MATRIX INFORMATION


Machine Stamped
-
Hand Written
SLEEVE INFORMATION