ROCK 'N' ROLL MUSIC
PCSP 719 / AXIS-6439/ AX-1002 / AX-701270
MATRIX INFORMATION


Machine Stamped
-
Hand Written
SLEEVE INFORMATION
RELEASE DATE

RECORD ONE
SIDE 1 / 2
RECORD TWO
SIDE 3 / 4

PARTS

28 Jun 1976

SKB01 11537
SKB02 11537
SKB03 11537
SKB04 11537

AU

Nov 1980

SKB01 11537

B




SKB02 11537

DC

SKB03-11537




SKB04 11537

B

AU

10 Aug 1981

SKB01 11537
SKB02 11537

C

SKB03-11537
SKB04 11537

B

AU


198?

SKB01 11537
SKB02 11537

SKB0-3-11537-2




SKB04 11537

AU
| | | |
| --- | --- | --- |
| CODE | CIRCULATED | SLEEVE DETAILS |
| A1 | Jun 1976 | Gatefold |
| A2 | 10 Aug 1981 | Single-pocket sleeve; AXIS logo 1; cat. AXIS-6439 (V1) + AXIS-6440 (V2) |
| A3 | Apr 1982 | Single-pocket sleeve; AXIS logo 2; cat. AX-1002 (V1) + AX-1003 (V2) |
| A4 | Mid 1987 | Single-pocket sleeve; AXIS logo 2; cat. AX-701270 (V1) + AX-701271 (V2) |
| | | |
GENERAL ALBUM INFORMATION
Although US matrix numbers appear on the discs and labels, copies of the UK master tapes were used. The UK tapes also had reversed channels (being copies of the US tapes), but EMI Australia received the correction telex from EMI UK in time to correct, which they did when mastering. Accordingly, the tracks on the Australian release are the 1976 George Martin remixed tracks, but with the reversed channels corrected.

From August 1981, EMI's budget imprint, Axis Records, marketed the original 2-LP set as 2 single-album releases, adding Volume 1 and Volume 2 sub-titles in the process.

First pressings of Rock 'n' Roll Music included a flyer promoting the Beatles' vinyl, compact cassette and 8-track cartridge catalogues (click images below for larger versions).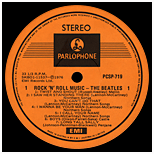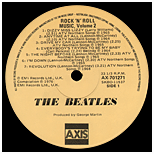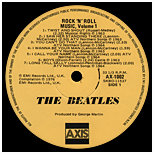 AXIS YELLOW A
AU1002/3S3
Apr 1982
AXIS YELLOW B
AU701270/1S5
Jul 1987
ORANGE 1-BOX C
AU719S1C
1979
ORANGE 1-BOX A
AU719S1A
28 Jun 1976
AXIS B&W
AU6439/40S2
10 Aug 1981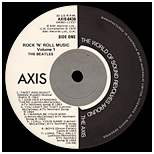 PAGE LAST UPDATED: 22 OCTOBER 2011
Rock 'n' Roll Music - promotional insert - side 1
Rock 'n' Roll Music - promotional insert - side 2