THE BEATLES' AUSTRALIAN 10th ANNIVERSARY 1963-1973 SOUVENIR PRESENTATION

THE BEATLES GREATEST HITS VOLUMES 1 AND 2

PCSS 7533/4 (STEREO)
GENERAL ALBUM INFORMATION
In February 1973, to commemorate the 10th anniversary of the first Beatles record released in Australia (Please Please Me/Ask Me Why), EMI (Australia) repackaged the two previously issued Greatest Hits volumes into a double LP set with a new gatefold sleeve and distinctive purple labels. The LP was promoted nationally by member stations of the Major Radio Network of Australia, with the front cover featuring a gold sticker on the top left displaying the call sign of the promoting station. The participating radio stations were 2KO, 2UE, 3DB, 4BK, 5AD, 6PR, 7EX and 7HT.

While there was no new content, or new mixes of old content, the labels eschewed the orange hue that characterised contemporary Beatles releases in favour of a more subdued lilac/purple colour; not a particularly earth-shattering variation perhaps, but one that undeniably adds to the unique character of the Australian Beatles labelography.

The set was to be short-lived, however, for a few months later EMI UK announced the impending release of The Beatles 1962-66 and The Beatles 1967-70, effectively scuttling sales of the commemorative set, which was quietly deleted before mid-1973.

Extract from the book "An Overview of Australian Beatles Records", © 2011/12 by Jaesen Jones. Used by permission. Book available for purchase by clicking the "AUSSIE BEATLES BOOK" link in the top menu.
MATRIX INFORMATION


Machine Stamped
-
Hand Written
RELEASE DATE

DISC 1 / VOL 1
SIDE 1 MATRIX
DISC 1 / VOL 1
SIDE 2 MATRIX
DISC 2 / VOL 2
SIDE 1 MATRIX
DISC 2 / VOL 2
SIDE 2 MATRIX

PARTS

Feb 1973

YAPAX 1015

YAPAX 1016

YAPAX 1009

YAPAX 1010

AU
SLEEVE INFORMATION
| | | | |
| --- | --- | --- | --- |
| ORIGIN | CODE | CIRCULATED | SLEEVE DETAILS |
| AUST | A1 | Feb 1973 | Gatefold sleeve; gold sticker with name of distributing radio station |
| | | | |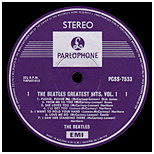 PURPLE 1-BOX
AU7533S6/AU7534S6
Feb 1973
PAGE LAST UPDATED: 8 AUGUST 2012