| | | | | |
| --- | --- | --- | --- | --- |
| FORMAT | RELEASE DATE | SIDE 1 MATRIX | SIDE 2 MATRIX | PARTS |
| STEREO | 23 Apr 1970 | YEEX 150-1 | YEEX 151-1 | UK |
| STEREO | 1982 | YEEX 150/ 2PX 750-2 749-2 AP | YEEX 151/ 2PX 750-2 AP | AU |
| | | | | |
HEY JUDE
PCSO 7560
MATRIX INFORMATION


Machine Stamped
-
Hand Written
| | | |
| --- | --- | --- |
| CODE | CIRCULATED | SLEEVE DETAILS |
| A1 | Apr 1970 | non-flipback sleeve |
| | | |
SLEEVE INFORMATION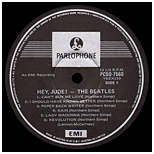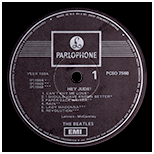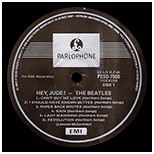 APPLE
AU7560S1
23 Apr 1970
BLACK 1-BOX A
AU7560S2A
1982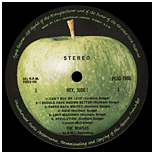 BLACK 1-BOX B
AU7560S2B
Jul 1987
NZ DK GREY 1-BOX
AU7560S3
1982
GENERAL ALBUM INFORMATION
To an unfamiliar eye, a 1980 pressing of Hey Jude (and other Apple albums such as Abbey Road and Let It Be) would, for all intents, look identical to an original pressing c.1970. However, there are a number of subtle aspects that differentiate pressings from the two era's:

1) Sleeves of genuine originals have a glossy appearance in comparison to the matt look of later sleeves
2) The vinyl of original pressings are thicker and heavier than later 'Harris' vinyl (i.e. thin enough to use as a 'wobbleboard').
3) True original copies sound great.

Because it's not mentioned anywhere on the sleeve, it is not widely known (both domestically and internationally) that the Australian version of Hey Jude actually originates from the same lacquer from which UK 'Export' copies originate. The Australian original pressing of Hey Jude is yet another example of where the uninformed will, needlessly, shell-out hundreds of dollars to secure a UK copy when a record of identical aural/sonic quality can be had for as little as AU$20.
PAGE LAST UPDATED: 9 OCTOBER 2012