ABBEY ROAD
PCSO 7088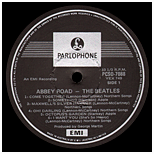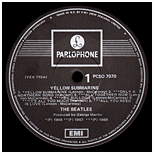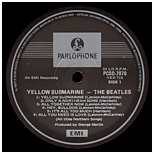 APPLE
AU7088S1
23 Oct 1969
BLACK 1-BOX B
AU7088S2B
Jul 1987
NZ DK GREY 1-BOX
AU7088S3
1982
BLACK 1-BOX A
AU7088S2A
1982
GENERAL ALBUM INFORMATION
MATRIX INFORMATION


Machine Stamped
-
Hand Written
SLEEVE INFORMATION
| | | | | |
| --- | --- | --- | --- | --- |
| FORMAT | RELEASE DATE | SIDE 1 MATRIX | SIDE 2 MATRIX | PARTS |
| STEREO | 23 Oct 1969 | YEX 749-2 | YEX 750-1 | UK |
| STEREO | Late 1979 | YEX 749-3 | YEX 750-2 | AU |
| STEREO | ~1980 | YEX 749-3 | YEX 750-3 | AU |
| STEREO | Apr 1981 | YEX 749-4 | YEX 750-2 | AU |
| STEREO | 1984 | YEX 749-4 | YEX 750-3 DB | AU |
| STEREO | 14 Nov 1988 | PCSO 7088 D-A | PCSO 7088 D-B | AU |
| | | | | |
| | | | |
| --- | --- | --- | --- |
| ORIGIN | CODE | CIRCULATED | SLEEVE DETAILS |
| AUST | A1 | Oct 1969 | misprint cover; drainage-grate (bottom foreground) just visible; STEREO printed at top-right |
| AUST | A2 | Nov 1969 | corrected cover; little to no grate; STEREO printed at top-right |
| AUST | A3 | Nov 1988 | "DIGITALLY REMASTERED" footer on rear cover |
| | | | |
PAGE LAST UPDATED: 11 AUGUST 2012
Abbey Road was the first Australian Beatles album to be released exclusively in STEREO.

The first covers (A1, pictured, right) suffer from a printing error in which too much red was applied. This resulted in what can be subjectively described as a prominent blood stain on the part of the road between Ringo Starr and John Lennon, hence the "blood red" nick name for this cover variation. This anomaly is one of the documented 'clues' in the "Paul is Dead" conspiracy.

The misprint gives the entire cover, front and back (pictured, below), a pinkish hue. The printing error was corrected quickly with sleeve A2.

The drainage grate (sleeve bottom f/g) is more prominent on the earliest manufactured covers, then begins to disappear, then is not part of the picture at all sometime during the 1970s.

All Australian manufactured Abbey Road sleeves have a "misaligned" (relative to text) Apple logo on the rear (pictured, below).