YELLOW SUBMARINE
PMCO 7070 (MONO) / PCSO 7070 (STEREO)
FORMAT

RELEASE DATE

SIDE 1 MATRIX

SIDE 2 MATRIX

PARTS

MONO

23 Jan 1969

XEX 715-1

XEX 716-1

UK

STEREO

23 Jan 1969

YEX 715-1

YEX 716-1

UK

STEREO

Apr 1981

YEX 715-2

OR

YEX 716-2

OR

AU

STEREO

24 Aug 1987

PCSO 7070 A-2 AP


MASTERED ON COPPER

PCSO 7070 B-2 AP


MASTERED ON COPPER

AU*

STEREO

14 Nov 1988

PCSO 7070D-A

PCSO7070D-B

AU

* yellow vinyl pressing; mastered direct to copper ('DMM' profile not used as cut at EMI for Festival)
MATRIX INFORMATION


Machine Stamped
-
Hand Written
| | | | |
| --- | --- | --- | --- |
| ORIGIN | CODE | CIRCULATED | SLEEVE DETAILS |
| AUST | A1 | Jan 1969 | mono + stereo catalogue numbers; flipback sleeve |
| AUST | A2 | Dec 1969 | stereo catalogue number only; non-flipback sleeve |
| AUST | A3 | Nov 1988 | "DIGITALLY REMASTERED" footer on rear cover |
| | | | |
SLEEVE INFORMATION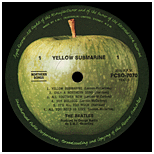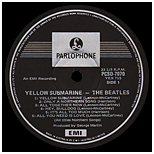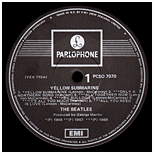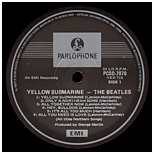 APPLE - Mono
AU7070M1
23 Jan 1969
APPLE - Stereo
AU7070S1A
23 Jan 1969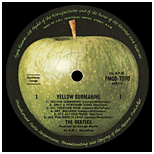 NZ DK GREY 1-BOX
AU7070S3
1982
BLACK 1-BOX B
AU7070S2B
Jul 1987
BLACK 1-BOX A
AU7070S2A
1982
GENERAL ALBUM INFORMATION
As per the UK release, Yellow Submarine was the last Beatles album to be released in Australia in mono (not actually a unique mono mix but a 'fold-down' of the stereo tapes).

Bruce Hamlin's book, The Beatles Records in Australia states that only around 1300 copies of the mono edition were sold in Australia. As sales of mono albums had dropped significantly relative to stereo albums, EMI (Australia) deleted mono records, where there was a stereo alternative, in mid-1969. Despite having such a limited production run, at least two mono label variations of Yellow Submarine were published.

As had occurred with The Beatles, the acceptance sheets for the Australian Yellow Submarine specify the use of Parlophone labels; an error which, again, was picked-up prior to production. It seems that the New Zealand acceptance sheets also specified Parlophone labels but the error went unnoticed and first NZ pressings of Yellow Submarine went out with Parlophone labels - this was despite the fact that The Beatles had already been issued on the Apple label.

The Australian sleeve, while similar to the UK sleeve, has several distinctive differences:

1) A blue/green hill (UK = grey)
2) Font, colour and placement of the "NOTHING IS REAL" text, i.e. blue instead of green, and placed slightly more left.
3) The two 'Blue Meanies', at bottom-right, are grey instead of blue.
4) Rear-sleeve has one red horizontal line (reconstructed locally) and one black line (red on the UK sleeve).
5) Derek Taylor's italicised blurb is horizontally centred (at left on UK sleeve).
PAGE LAST UPDATED: 11 AUGUST 2012