THE BEATLES
PMCO 7067-8 (MONO) / PCSO 7067-8 (STEREO)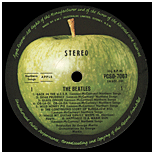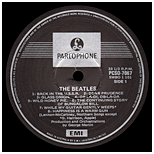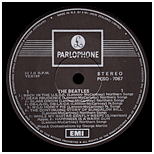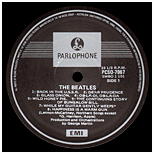 APPLE - Mono
AU70678M1
4 Dec 1968
APPLE - Stereo
AU70678S1
4 Dec 1968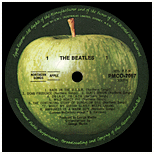 NZ DK GREY 1-BOX
AU70678S2C
1982
BLACK 1-BOX A
AU70678S3A
1982
BLACK 1-BOX B
AU70678S3B
Jul 1987
GENERAL ALBUM INFORMATION
| | | | | | | |
| --- | --- | --- | --- | --- | --- | --- |
| FORMAT | RELEASED | SIDE 1 MATRIX | SIDE 2 MATRIX | SIDE 3 MATRIX | SIDE 4 MATRIX | PARTS |
| MONO | 4 Dec 1968 | XEX 709-1 | XEX 710-1 | XEX 711-1 | XEX 712-1 | UK |
| STEREO | 4 Dec 1968 | SWBO 1-101-J41: B | SWBO 2-101-J41: B | SWBO 3-101-J41: B | SWBO-4-101-J41: B | US |
| STEREO | Dec 1980 | SWBO 1-101-J41: B | SWBO 2-101-J46 #4 | SWBO 3-101-J41: B | SWBO-4-101-J41: B | AU (S2) |
| STEREO | Q1 1981 | SWBO 1-101-J46 #3 | SWBO 2-101-J46 #4 | SWBO 3-101-J41: B | SWBO-4-101-J41: B | AU (S1,2) |
| STEREO | Mid-1981 | SWBO 1-101-J46 #3 | SWBO 2-101-J46 #4 | SWBO 3-101-J48 #2 | SWBO-4-101-J41: B | AU (S1-3) |
| STEREO | 198? | SWBO 1-101-J46 #3 | SWBO 2-101-J46 #4 | SWBO 3-101-J41: B | SWBO-4-101-J44: #5 | AU (S1,2,4) |
| STEREO | Oct 1982 | SWBO1 101 -2 DB | SWBO 2-101-J46 #4 | SWBO3 101 -2 DB | SWBO-4-101-J41: B | AU (S1-3) |
| STEREO | ~1984 | SWBO1 101 -2 DB | SWBO 2-101 -2 | SWBO3 101 -2 DB | SWBO-4-101-J41: B | AU (S1-3) |
| STEREO | 24 Aug 1987 | PCSO 7067A SWBO1-101-3 AP 682 | PCSO 7067B SWBO2-101-3 AP 682 | PCSO 7068BA SWBO3 101-3 AP SIDE 3 | PCSO 7068AB SWBO4 101-3 AP | AU* |
| STEREO | 24 Aug 1987 | PCSO 7067A SWBO1-101-3 AP | PCSO 7067B SWBO2-101-3 AP | PCSO 7068BA SWBO3-101-3 AP | PCSO 7068AB SWBO4-101-3 AP | AU |
| STEREO | 14 Nov 1988 | PCSO 7067D-A | PCSO 7067D-B | PCSO 7068D-A | PCSO 7068D-B | AU |
| | | | | | | |
MATRIX INFORMATION


Machine Stamped
-
Hand Written
| | | | |
| --- | --- | --- | --- |
| ORIGIN | CODE | CIRCULATED | SLEEVE DETAILS |
| AUST | A1 | Dec 1968 | Local made sleeve, five digit numbered with "A" prefix, top loader, black inner sleeves* |
| AUST | A2 | 1969 | Local made sleeve, five digit numbered with "No." prefix, top loader, black inner sleeves* |
| AUST | A3 | ~1971 | Local made sleeve, unnumbered, side loader, plastic inner sleeves |
| AUST | A4 | Nov 1988 | "DIGITALLY REMASTERED" footer on rear cover |
| | | | |
In line with overseas pressings, local sleeves of early pressings had disc-openings along the top of the sleeve as opposed to the usual side openings. Inner sleeves were black paper. Four full-colour pictures featuring each Beatle were included. A fold-out poster, featuring song lyrics on one side and a photo-collage on the other, was also included in the local package but here it was censored; pictures and information about the censored Australian poster appear on the "Poster" page. Also, in line with international counterparts, the first Australian pressings had individually numbered sleeves (see 'AUSTRALIAN NUMBERING', below).

Extremely low sales of the mono edition gave rise to an urban myth that a mono pressing of The Beatles was never actually issued in Australia - a falsehood which is still accepted as fact in some quarters despite the, admittedly infrequent, auctioning of copies of the Oz mono pressing on e**y. But exist it most certainly does.

A question which is regularly raised among collectors is "why did EMI Australia use UK stampers for the mono release but US stampers for the stereo"? There's no definitive answer to this, although general consensus is that it was due either to timing of release or a supply problem. NZ also used US-made parts (J40 - a plate earlier than ours) on their first pressings. As this was the first Beatles album that was released exactly the same in both the US and UK, it may have been cheaper to ship stereo plates from the US; and because the US did not release a mono version, the only alternative was to have stampers (or tapes if preferred) from EMI UK.

The Australian White Album acceptance sheets specified that Parlophone labels be used - an error which was picked-up and corrected shortly before production.

The Apple label style changed in July 1969. Prior to July, Apple labels carried "Northern Songs" and "Apple" credits on the left side of the centre hole. From July, labels were as per original copies of "Abbey Road", ie with "33 1/3 R.P.M." on the left side. Given that there exists copies numbered in the high 40000's which carry the 'old' layout and some in the low 40000's carrying the 'new' layout, it is a reasonable contention that there was actually no 'hard' changeover point. In the absence of a body of empirical data, a best guesstimate can be thus: 1) old layout pre A 40000, 2) either layout between A 40000 and A 50000, 3) new layout post A 50000, but that's just arbitrary.

AUSTRALIAN NUMBERING
Early sleeves had a unique five digit number stamped on the front cover prefixed with a capital "A" in a different font. Around the 61000 mark, the "A" prefix was replaced with "Nº". The lowest and highest numbers verified in the "A" range are 00001 and 61511, and in the "Nº" range are 61392 and 94930, the latter of which was purchased in late 1970. Both mono and stereo pressings shared the same number series. Numbers are not consecutive, for despite only selling around 5,000 copies, mono copies exist with numbers in the 80000s. Evidence suggests that numbered sleeves were available as late as 1977.

The print colour used on numbered sleeves varies with no seemingly obvious pattern; some sleeves have grey print, some green, and with various shades in between. However, starting from the 70000's and into the unnumbered period, all sleeve printing is green.

Australia regularly exported sleeves to HMV (New Zealand) from 1969 through to 1987. Thus not all numbered sleeves were distributed in Australia.

All cassette copies have the number "No. 80390" printed on the cover. Given the cassette version was released around Sep 1971 (from UK-supplied tapes, as opposed to the US-supplied stampers for the LP), this *might* suggest that the numbered LP covers existed beyond that date, but it might also suggest nothing at all. Cassette copies have a different running order and spell "Raccoon" as "Raccon".

Some of the above has been extracted from the book "An Overview of Australian Beatles Records", © 2011/12 by Jaesen Jones. Used by permission. Book available for purchase by clicking the "AUSSIE BEATLES BOOK" link in the top menu.
SLEEVE INFORMATION
PAGE LAST UPDATED: 11 AUGUST 2012
*During 1969, the print-colour was changed from grey to green but inconsistently applied; for example, a green-ink A 60### has been confirmed; as has a grey-ink A 69###; 'go figure' as "they" apparently say.

A single sleeve was printed to house both mono and stereo pressings; and while mono and stereo catalogue numbers were printed on the spine of the sleeve (and remained that way on every subsequent pressing), the rear of the sleeve made reference exclusively to 'stereo'; sleeves that housed mono vinyl had a large black and white 'MONO' sticker placed over the solitary printed word 'stereo' (the 'MONO' sticker was in the same style as the b&w 'STEREO' stickers that were attached to dual-format sleeves of the other Beatles albums.
*White-vinyl pressing; only 2000 pressed