GREATEST HITS VOLUME 1
PMCO 7533 (MONO) / PCSO 7533 (STEREO)
| | | | | |
| --- | --- | --- | --- | --- |
| FORMAT | RELEASE DATE | SIDE 1 MATRIX | SIDE 2 MATRIX | PARTS |
| MONO | 7 Jun 1966 | XAPAX 73 | XAPAX 74 | AU |
| STEREO | 22 Feb 1968 | YAPAX 1015 | YAPAX 1016 | AU |
| STEREO | 1982 | YAPAX 1015-2 AP | YAPAX 1016-2 AP | AU |
| | | | | |
MATRIX INFORMATION


Machine Stamped
-
Hand Written
| | | | |
| --- | --- | --- | --- |
| ORIGIN | CODE | CIRCULATED | SLEEVE DETAILS |
| AUST | A1 | Jun 1966 | mono catalogue number only; flipback sleeve |
| AUST | A2 | Feb 1968 | mono + stereo catalogue numbers; flipback sleeve |
| AUST | A3 | 1969 | mono + stereo catalogue numbers; non-flipback sleeve |
| AUST | A4 | Dec 1969 | stereo catalogue number only; non-flipback sleeve; stereo EMI footer on rear cover |
| | | | |
SLEEVE INFORMATION
YELLOW/BLACK mono
AU7533M1
7 Jun 1966
NZ BLUE mono
AU7533M2
1966
NZ YELLOW mono
AU7533M3
1968
NZ BLACK 1-BOX A
AU7533S4A
1969
YELLOW/BLACK stereo
AU7533S3
Feb 1969
ORANGE 1-BOX A
AU7533S5A
Q3 1969
'BANNER' STEREO
AU7533S1
22 Feb 1968
ALBUM NOTES
Both volumes were conceived in early 1966, with EMI (Australia) requesting stereo tapes from EMI UK for the tracks not already in its vaults. This means that both volumes, despite not being released locally in stereo until February 1967 (Volume 2) and February 1968 (Volume 1), contain the 1965 stereo mixes of I Want To Hold Your Hand, Day Tripper and We Can Work It Out rather than the new mixes that were created by EMI UK in November 1966 for A Collection Of Beatles Oldies. This also explains why the two volumes contain no post-1965 "greatest hits".

Volume 2's claim to fame was being the only album worldwide, until the 1980 eight-LP The Beatles Box release, to contain the stereo mix of She's A Woman.

The mono masters of both volumes were folddowns of the stereo tapes, with only She Loves You and I'll Get You appearing in true mono, due to the unavailability of stereo mixes at the time of compilation. Both mono volumes were mastered together in 1966. Mysteriously, the stereo version of Volume 1 would not be released until twenty months after the mono release, and twelve months after the release of Volume 2! This is why the Volume 2 sleeve refers only to the mono release of Volume 1. For the stereo release of Volume 1, EMI (Australia) replaced the mono mix of She Loves You with the fake stereo mix created by EMI UK in November 1966.

The covers for both volumes borrowed heavily from overseas releases. Volume 1 used elements from the US Beatles VI and German The Beatles Beat and Volume 2 used elements from the (surprisingly even earlier) US Beatles '65 as well as what was left of Beatles VI. Use of these 1965-period photos emphasises the genesis of these albums.

By mid-1973, Volume 1 had sold over 100,000 copies. What is intriguing about both volumes is that, despite the myriad of "greatest hit" packages and assorted themed compilations released over the ensuing years, they never went out of print, selling consistently right up until catalogue standardisation in 1988.

EMI (Australia) exported (at least) Volume 1 mono mothers to HMV (New Zealand) and stereo mothers for both volumes to EMI (South East Asia). HMV (New Zealand) pressed domestic copies of Volume 1 (PMCM-7533) and copies for export to Australia. EMI (South East Asia) pressed both volumes in stereo (S-LPEA 1001/1002) for distribution in Singapore, Malaysia and Hong Kong.

Volume 1 Side 1: Please, Please Me / From Me To You / She Loves You / I'll Get You / I Want To Hold Your Hand / Love Me Do / I Saw Her Standing There. Side 2: Twist And Shout / Roll Over Beethoven / All My Loving / Hold Me Tight / Can't Buy Me Love / You Can't Do That / Long Tall Sally.

The above is an extract from the book "An Overview of Australian Beatles Records", © 2011/12 by Jaesen Jones. Used by permission. Book available for purchase by clicking the "AUSSIE BEATLES BOOK" link in the top menu.

GENERAL ALBUM INFORMATION
PURPLE 1-BOX
AU7533S6
Feb to May 1973
NZ BLACK 1-BOX B
AU7533S4B
1976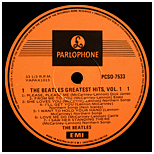 ORANGE 1-BOX C
AU7533S5C
1979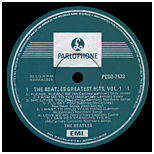 BLACK 1-BOX B
AU7533S8B
Jul 1987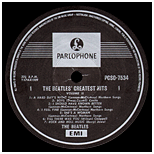 NZ DK GREY 1-BOX
AU7533S4C
1982
BLACK 1-BOX A
AU7533S8A
1982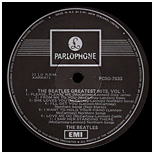 TEAL 1-BOX
AU7533S7
Q4 1979
PAGE LAST UPDATED: 11 AUGUST 2012