BEATLES FOR SALE
PMCO 1240 (MONO) / PCSO 3062 (STEREO)
FORMAT

RELEASE DATE

SIDE 1 MATRIX

SIDE 2 MATRIX

PARTS

MONO

11 Feb 1965

XEX 503 XAPAX 53

XEX 504 XAPAX 54

AU

STEREO

11 Feb 1965

YEX 142 YAPAX 1003

YEX 143 YAPAX 1004

AU

STEREO

197?

YEX 142

YAPAX.1003-2

YEX 143

YAPAX 1004-5

AU

STEREO

Oct 1978

YEX 142

YAPAX 1003-2

YEX 143-3 YAPAX.1004-3

AU

STEREO

Nov 1980

YEX 142

YAPAX 1003-2

YEX 143-3

YAPAX.1004-5

AU

STEREO

1982

YEX 142

YAPAX 1003-3

YEX 143-3

YAPAX.1004-5

AU

STEREO

1984

YEX142

YAPAX 1003-3

YAPAX 1004-5

AU

STEREO

198?

YEX 142-3 YAPAX 1003-3 DB

YAPAX 1004-5

AU

MONO

14 Nov 1988

PCSO 3062 D-A
PB EMIDISC DMM
PCSO 3062 D-B
PB EMIDISC DMM

AU
MATRIX INFORMATION


Machine Stamped
-
Hand Written
| | | | |
| --- | --- | --- | --- |
| ORIGIN | CODE | CIRCULATED | SLEEVE DETAILS |
| AUST | A1 | Feb 1965 | mono & stereo catalogue numbers; Australian designed flipback sleeve |
| AUST | A2 | Dec 1969 | stereo catalogue number only; Australian designed flipback and non-flipback sleeves |
| AUST | A3 | 1982 | UK replica gatefold sleeve; stereo catalogue number only; local EMI details on inner sleeve |
| AUST | A4 | 1982 | same as A2 |
| AUST | A5 | Nov 1988 | same as A2 but with "DIGITALLY REMASTERED" footer on rear cover |
| | | | |
SLEEVE INFORMATION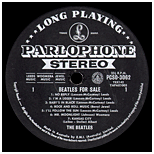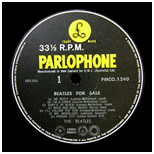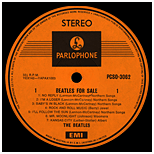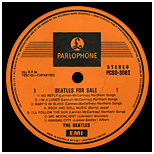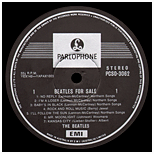 YELLOW/BLACK mono
AU1240M1
11 Feb 1965
'BANNER' STEREO
AU3062S1
11 Feb 1965
NZ BLACK 1-BOX A
AU3062S4A
1969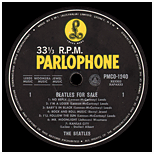 YELLOW/BLACK stereo
AU3062S3
Feb 1969
ORANGE 1-BOX B
AU3062S5B
Oct 1978
ORANGE 1-BOX A
AU3062S5A
Q3 1969
NZ BLACK 1-BOX B
AU3062S4B
1976
BLACK 1-BOX A
AU3062S6A
1982
NZ YELLOW mono
AU1240M2
1968
GENERAL ALBUM INFORMATION
No label on any Australian pressing of Beatles For Sale includes 'Hey, Hey, Hey, Hey' as part of the 'Kansas City' track title. However, sleeve A3, the short-lived UK replica sleeve, has 'Hey, Hey, Hey, Hey' listed on the cover.

Beatles For Sale was cut locally from UK supplied tapes.

The 1988 digital remaster, despite being mono like the CD release, maintained the stereo numbering system.

THE AUSTRALIAN VERSION OF THE SLEEVE

Beatles For Sale LP sleeves manufactured in Australia between February 1965 and 1982, and between 'a bit later' 1982 and 1990 utilise a front-sleeve design unique to Australia. The art features, on a yellow background, isolated colour pictures of each Beatle taken during the Sydney Stadium concert of the lads' 1964 Australian tour. For a very short period in 1982, Beatles For Sale was issued in a replica of the UK gatefold sleeve, with EMI Australia credits in the sleeve inner. Research suggests that the replica UK sleeve was limited to copies that were distributed in boxed sets produced at the time; and if any copies were sold individually it was as direct consequence of a retailer 'breaking' a boxset for individual-title sale.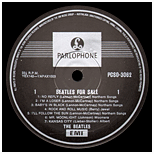 BLACK 1-BOX B
AU3062S6B
Jul 1987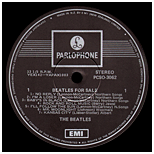 NZ DK GREY 1-BOX
AU3062S4C
1982
PAGE LAST UPDATED: 11 AUGUST 2012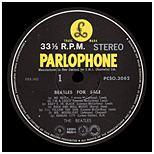 NZ YELLOW stereo
AU3062S2
1968