AU3045S3X

With The Beatles / PCSO 3045 / stereo label 3 / Columbia orange 1-Box
The orange Columbia logo label base which graced a few 1980 copies of With The Beatles was, in all probability, a simple paper-stock mistake on account of how both Parlophone and Columbia standard releases, i.e. PCSO and SCXO series respectively, used the orange label style.

The existence of at least one example of 'crossover', or hybrid, label pairings has been confirmed to the time of writing: Parlophone Side 1 / Columbia Side 2 (see AU3045S3X.b, below)

No information is available regarding the approximate numbers of LP's that went out with the Columbia labels; but given how seldom they are listed on Ebay relative to their Parlophone counterparts, it is safe to count the orange Columbia-labelled copies of With The Beatles among the short list of rarest Australian Beatles vinyl releases.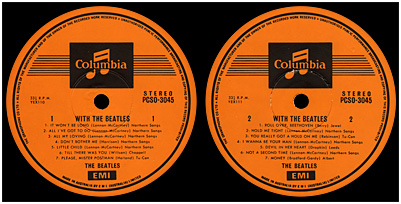 AU3045S3X.a - With The Beatles / PCSO 3045 / stereo label 3X (orange 'Columbia') / Variation a
AU3045S3X.a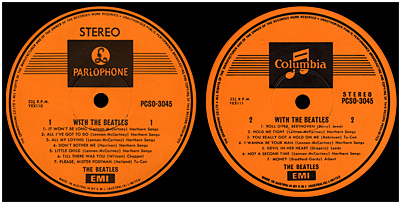 AU3045S3X.b - With The Beatles / PCSO 3045 / stereo label 3X (orange 'Columbia') / Variation b
AU3045S3X.b