MATRIX INFORMATION


Machine Stamped
-
Hand Written
WITH THE BEATLES
PMCO 1206 (MONO) / PCSO 3045 (STEREO)
FORMAT

RELEASE DATE

SIDE 1 MATRIX

SIDE 2 MATRIX

PARTS

MONO

22 Feb 1964

XEX 447-1N

XEX 448-1N

UK

STEREO

19 Mar 1964

YEX 110-2

YEX 111-2

UK

STEREO

Aug 1979

YEX 110-4

YEX 111-2

UK

STEREO

May 1981

TPCS 3045A-3

OR

TPCS 3045 B-4

DB

AU

MONO

14 Nov 1988

PCSO 3045D-A
PB EMIDISC DMM
PCSO 3045D-B-2
PB EMIDISC DMM

AU
SLEEVE INFORMATION
| | | | |
| --- | --- | --- | --- |
| ORIGIN | CODE | CIRCULATED | SLEEVE DETAILS |
| AUST | A1 | Feb 1964 | mono catalogue number only; Australian designed flipback sleeve |
| AUST | A2 | Mar 1964 | mono & stereo catalogue numbers; Australian designed flipback sleeve |
| AUST | A3 | Dec 1969 | stereo catalogue number only; Australian designed non-flipback sleeve |
| AUST | A4 | 1981 | UK replica sleeve; stereo catalogue number only; local EMI details on rear cover |
| AUST | A5 | Nov 1988 | UK replica sleeve; "DIGITALLY REMASTERED" footer on rear cover |
| | | | |
The 1988 digital remaster, despite being mono like the 1987 CD release, maintained the stereo numbering system.

THE AUSTRALIAN VERSION OF THE SLEEVE

All With The Beatles album sleeves manufactured in Australia between December 1963 and February 1981 utilise a front-sleeve image unique to Australia.

The local sleeve came about as a consequence of unsatisfactory attempts to utilise the heavy-shadow, grained UK sleeve cover art via the photographic process (Australian Union ruling forbade the use of imported photographic negatives for the production of local record sleeves; this ruling was circumvented by taking a photograph of an imported sleeve and using the resultant negative as the 'original' in the production of local sleeve art).

A new front sleeve was designed by EMI's Andrew Bokor using 'sharp' graphic elements. It is rumoured that during the Beatles' 1964 tour of Australia, John Lennon took exception to the local With The Beatles sleeve, but the protests fell on deaf ears and the sleeve remained unchanged.

The correct title for Side 2, track 3, You Really Got A Hold On Me, did not appear on an Australian With The Beatles sleeve until 1981. up 'til then, the track was printed as, You Really Gotta Hold On Me, an error which had appeared on early UK sleeves but unlike the UK, where the Gotta sleeve error was quickly rectified, Australian sleeves went unchanged until a UK-replica sleeve replaced the unique 'floating head' local sleeve in February 1981.

LABEL NOTES

The premiere Australian release of With The Beatles retained the gold label design seen on the first pressings of Please Please Me, even though UK pressings utilised the new 'yellow Parlophone' design.

A kerfuffle with music-publishing credits ensued in relation to track 2.7, "Money". Prior to November 1963, Tu-Con Music controlled Jobete Music titles in Australia; after this date, the majority of the Jobete catalogue, including, "Money", fell under the control of Belinda Music. For reasons unknown, the early With The Beatles labels credited Tu-Con as the publishers instead of Belinda; an error which remained in place for only a few weeks before the label was amended to the correct publishing credit (see gold label - variation 'c', below). The Money/Tu-Con label was issued, virtually exclusively, in 'mono-catalogue number only' sleeves.

The infamous "You Really Gotta Hold On Me" error that appeared on label and sleeve (see above) tracklists on early UK pressings of With The Beatles, was duplicated on early local pressings. "Gotta" was corrected to "Got A" for the third variation of the gold label (see below) but inexplicably reverted to "Gotta" with the appearance of the mono yellow Parlophone label (and coincident with a change in publishing credit from 'Belinda' to 'Albert') which is how it remained until changed back to "Got A" with the issue of 'Side-Stereo' orange labels.
GENERAL ALBUM INFORMATION
PAGE LAST UPDATED: 11 AUGUST 2012
GOLD MONO B
AU1206M1
22 Feb 1964
YELLOW/BLACK mono
AU1206M2
Mar 1964
NZ YELLOW mono
AU1202M3
1968
'BANNER' STEREO
AU3045S1
19 Mar 1964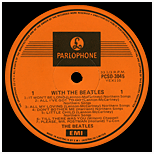 ORANGE 1-BOX C
AU3042S3C
1979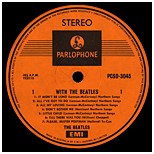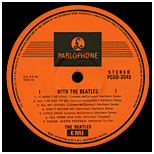 ORANGE 1-BOX A
AU3042S3A
Q3 1969
ORANGE 1-BOX B
AU3042S3B
Oct 1978
BLACK 1-BOX A
AU3042S5A
1982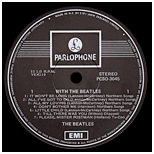 NZ DK GREY 1-BOX
AU3042S4B
1982
BLACK 1-BOX B
AU3042S5B
Jul 1987