PLEASE PLEASE ME
PMCO 1202 (MONO) / PCSO 3042 (STEREO)
PAGE LAST UPDATED: 11 AUGUST 2012
| | | | | |
| --- | --- | --- | --- | --- |
| FORMAT | RELEASE DATE | SIDE 1 MATRIX | SIDE 2 MATRIX | PARTS |
| MONO | 17 Oct 1963 | XEX 421-1N | XEX 422-1N | UK |
| STEREO | 9 Apr 1964 | YEX 94-1 | YEX 95-1 | UK |
| STEREO | Dec 1980 | YEX 94-2 | YEX 95-1 | AU/UK |
| STEREO | Aug 1981 | YEX 94-2 | YEX 95-2 | AU |
| STEREO | 198? | PCSO 3042 A-3 YEX 94-3 | YEX 95-2 | AU |
| MONO | 14 Nov 1988 | PCSO 3042 D-A PB - EMIDISC - DMM | PCSO 3042 D-B PB - EMIDISC - DMM | AU |
| | | | | |
MATRIX INFORMATION


Machine Stamped
-
Hand Written
| | | | |
| --- | --- | --- | --- |
| ORIGIN | CODE | CIRCULATED | SLEEVE DETAILS |
| UK | UK1 | Oct 1963 | 500 sleeves |
| AUST | A1 | Dec 1963 | mono catalogue number only; flipback sleeve |
| AUST | A2 | Mar 1964 | mono + stereo catalogue numbers; flipback sleeve |
| AUST | A3 | Dec 1969 | stereo catalogue number only; non-flipback; stereo EMI footer on rear cover |
| AUST | A4 | Dec 1980 | UK replica sleeve; stereo catalogue number only; local EMI details on rear cover |
| AUST | A5 | Nov 1988 | UK replica sleeve; "DIGITALLY REMASTERED" footer on rear cover |
| | | | |
SLEEVE INFORMATION
GENERAL ALBUM INFORMATION
Australian Please Please Me labels all include commas, where grammatically correct, in the following track titles:

1.7 Please, Please Me
2.1 Love Me, Do
2.3 Baby, It's You

The 1988 digital remaster, despite being mono like the 1987 CD release, maintained the stereo numbering system.

THE AUSTRALIAN VERSION OF THE SLEEVE

All Please Please Me album sleeves manufactured in Australia between December 1963 and December 1980 are characterised by the following:

The front picture of the Australian sleeve is subjectively 'brighter' than the U.K. original; detail that was obscured in shadow on the UK sleeve is evident in the local version. The reason for this is that due to a Union ruling, EMI Australia was not allowed to use imported film negatives as source material for printing sleeves; so a photograph was taken of an imported UK sleeve and the resulting negative used as the source to produce local sleeves. Unfortunately film is analogous to an analogue format so a photograph of an LP sleeve will have some form of 'generation loss', which equates to compromises to colour, detail and relative brightness of the original. Presumably the image was tweaked to the most acceptable level of presentation and printing plates produced from that 'master'.

Blue text was utilised on both sides of the sleeve; not out of any determination to make the sleeve uniquely Australian but simply because it was cheaper to have blue text than black. It should be remembered that at that point in time, The Beatles were largely unknown in Australia and so EMI Australia was reluctant to spend any more than they absolutely had to on sleeve production - which is why 500 sleeves were imported from the UK to house the first Australian copies of Please Please Me.

Being a photograph of an early UK sleeve, the Australian sleeve features the credit for photographer, Angus McBean, at the bottom extreme-right, visible on the rear flipside of the cover.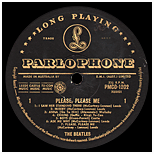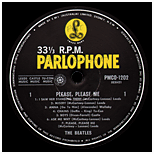 GOLD MONO A
AU1202M1A
17 Oct 1963
GOLD MONO B
AU1202M1B
Jan 1964
'BANNER' STEREO
AU3042S1
9 Apr 1964
YELLOW/BLACK mono
AU1202M2
Mar 1964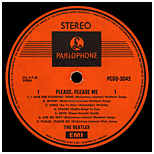 ORANGE 1-BOX A
AU3042S4A
Q3 1969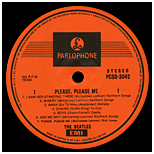 ORANGE 1-BOX B
AU3042S4B
Oct 1978
NZ YELLOW mono
AU1202M3
1968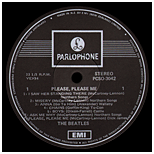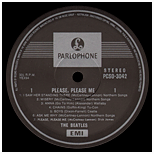 BLACK 1-BOX B
AU3042S5B
Jul 1987
NZ DK GREY 1-BOX
AU3042S3C
1982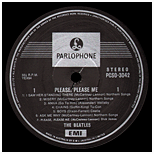 BLACK 1-BOX A
AU3042S5A
1982